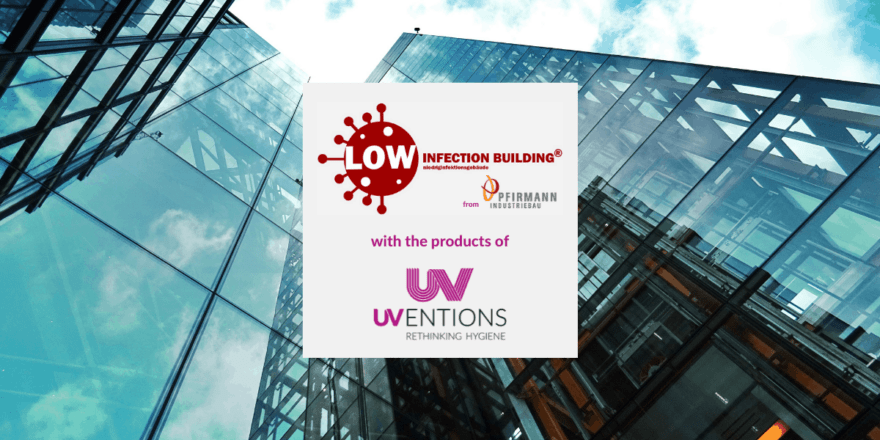 Trimmed for health from the roof to the basement – Germany's first office Low-Infection Building® with UVENTIONS
Washing our hands, wearing mouth and nose protection and keeping our distance have become second nature to us since last year. A new milestone in infection control has now been set by a project initiated by the Markstein Group, which is setting up the first office building in Germany as a Low-Infection Building®. Our UVPANEL from UVENTIONS is part of this project and will ensure the disinfection of indoor air and surfaces in the elevators.
The COVID19 pandemic shows us that we have to rethink hygiene. This includes, above all, indoor areas, because whether corona, influenza or noroviruses: all pathogens have in common that they spread particularly strongly in highly frequented indoor areas. The Pforzheim-based company Pfirmann Industriebau is now planning a "low-infection Building®", which could be a blueprint for equipping new buildings in terms of infection protection. The multi-storey office building with more than 2,000 m² of floor space should be able to protect employees more efficiently from infections through an ideal interplay of organisation, architecture and technology.
"We have been concerned about the health protection of employees, customers and suppliers for many years and asked ourselves right at the beginning of the COVID pandemic what impact it would have on the future of the construction industry," says Mr. Steffen Stüber, Managing Director of Pfirmann Industriebau GmbH & Co. KG. "It quickly became clear that we would have to add an essential feature to our buildings in addition to energy, fire and environmental protection: infection control."
Based on the knowledge gained through research on the virus and its peculiarities, a building type was developed that already has some special features in its architecture. All possible business processes and people scenarios were analysed and a "hygienically" correct answer was found for all issues. For example, there are separate entrances and exits for employees, and instead of large toilet facilities, there are many small toilet rooms whose doors open and close automatically.
For the implementation, Pfirmann Industriebau took a completely new approach: In cooperation with several start-up companies from Germany, technical solutions were found that support the hygiene concept with high-tech, which in some cases is not even known from hospital or laboratory buildings.
UVPANEL
Even the lift, a place where many people meet in the smallest space, will meet the highest hygiene standards in the new building. The UVPANEL from UVENTIONS, which safely and effectively removes viruses and bacteria from the air and surfaces with the help of UV-C light, will be installed on the ceiling of the lift, which is manufactured by TK Aufzüge GmbH. Passengers are protected from ultraviolet rays at all times, as optical sensors ensure that disinfection only starts when there are no people or animals in the lift.
The project is already underway and the building is scheduled to be occupied in December 2021.
https://uventions.com/wp/wp-content/uploads/2021/08/Low-Infection-Building-EN.png
600
1200
khaus
https://uventions.com/wp/wp-content/uploads/2021/08/logo.png
khaus
2021-05-21 20:39:54
2022-01-06 13:54:11
Trimmed for health from the roof to the basement – Germany's first office Low-Infection Building® with UVENTIONS